AirTubes: A Safer Listening Experience
Looking around these days, you can't help but notice how many people are wearing headsets. They are a handy accessory for talking on the phone, participating in online meetings and listening to music or podcasts. Increasingly, the wired headsets of old are being replaced by wireless bluetooth headsets which sit directly in the ear.
The often overlooked fact, however, is that whether you're using a standard wired headset or a wireless bluetooth headset, you are exposing yourself to EMF Radiation from your device.
EMF Radiation is the type of radiation emitted by wireless, smart devices such as phones and laptops. Known also as EMR (electromagnetic radiation), RF (radio frequencies), or sometimes simply Radiation, research into the harm caused by EMF Radiation and the long-term effects of exposure on human health, continues to be debated, with many scientists coming together to issue a warning that current safety standards are inadequate.
Given that so many of us are using headsets for both work and leisure, it makes sense to do so as safely as possible. In this post, we're shining the spotlight on AirTube headsets as a safer alternative to standard wired or wireless headsets and taking a look at how their design helps to significantly reduce our exposure to EMF.
How are AirTube Headsets a Safer Alternative?
Wireless headsets use bluetooth to wirelessly transmit the sound from your device to the speaker within the earbud directly inside your ear. High levels of EMF are emitted from the earbud into your ear, head and brain.
Standard wired headsets use a copper wire which runs the full length of the headset to transmit the sound from your device to the speaker in the earbud. EMF emitted from your device travels up the copper wire and into your ear.
The principle of the inverse square law of physics means that increasing your distance from the source of EMF decreases your exposure and risk. This is exactly how AirTube headsets work.
AirTube headsets use a copper wire in the first section which runs from the phone to the external speaker. The speaker sits approximately halfway up the length of the headset. The section connecting the speaker to the ear is a hollow tube of air approximately 17cm long. The sound travels through the tube of air to your ear which gives the required distance between the last source of EMF and your ear. Creating this distance significantly reduces your exposure to the EMF from your device and makes for a much safer listening experience.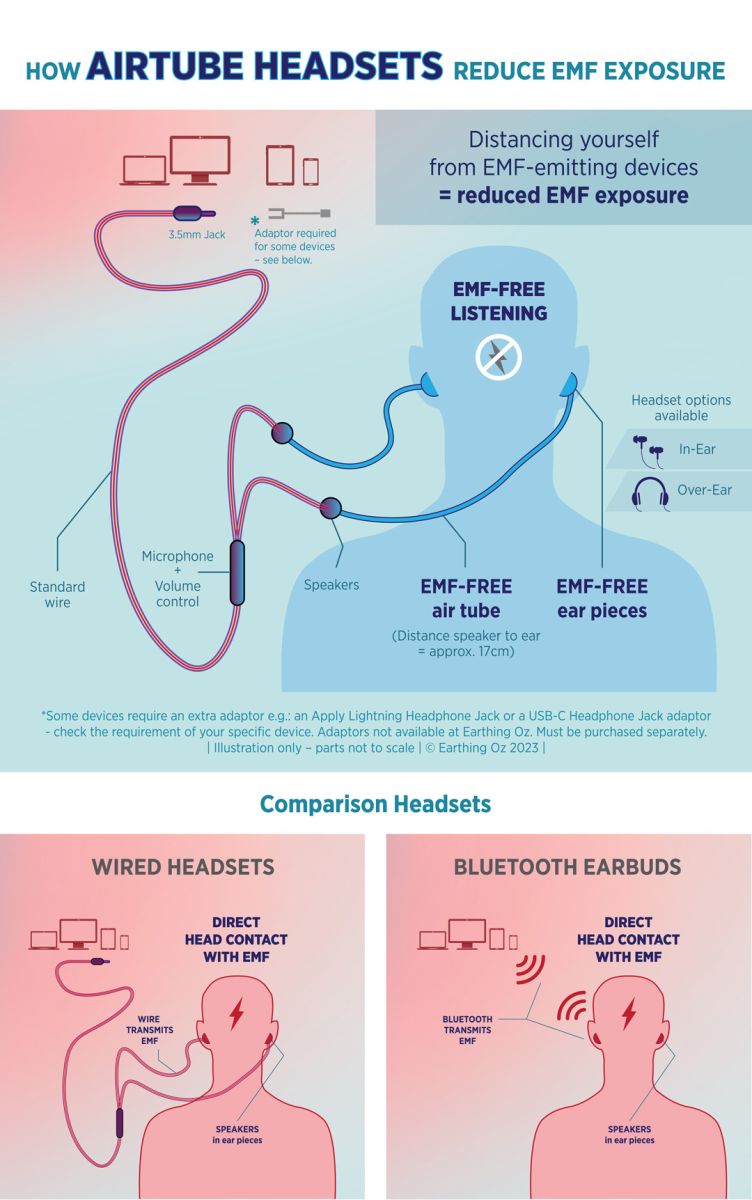 Why Choose an AirTube Headset?
AirTube headsets significantly reduce your exposure to EMF from your device, enabling a safer, EMF-free listening experience
The AirTube headsets available at Grounded Wellness are supplied with three sizes of earbuds to ensure a comfortable and convenient fit
Our AirTube headsets have a built-in hands-free microphone and audio control
Excellent sound quality
Can AirTube Headsets be used with all devices?
All AirTube headsets are fitted with a standard 3.5mm round jack which will fit many models of phone, tablet and laptop. However, some devices, particularly newer Apple and Samsung models will require an extra adaptor. Please check your device to see which adaptor connection you need. We do not sell adaptors for AirTube headsets. They must be purchased separately and are easily found at most big electrical retailers.
Which AirTube Headset is best?
Let's take a closer look at the range of headsets that we offer. We tested out a wide range of headsets before choosing the brands on our website. DefenderShield and SafeSleeve came out on top.
DefenderShield Airtube headsets have superior design and engineering. They were developed with audio engineering specialists and have advanced, professional-grade speakers which deliver higher fidelity stereo sound so you don't have to compromise on quality when protecting yourself from EMF. The built-in microphone and volume control button adds convenience and the supplied carry case helps to protect the airtube headsets when not in use.
The earbud style is supplied with small, medium and large size silicon ear buds for a custom fit as well as interchangeable sport tips and a clip to keep earbuds in place while running, playing sports or exercising.
DefenderShield AirTube headsets are also available in an Over-Ear style. Kids Over-Ear headsets are also available.
SafeSleeve Airtube headsets represent great quality at a very affordable price. Using a standard airtube design, they come with a built-in microphone and control button so you can talk on the phone, record audio and control your music without having your phone close to your head. Supplied with three earbud sizes and a convenient carry case, the SafeSleeve AirTube headsets are a great choice for everyday use.
Check out our Product Comparison Chart for help in deciding which headset solution might be the best choice for you.
Shop AirTube headsets here.